About us
Created in 1997, Côte Ouest joined Mediawan Africa in May 2023, the African flagship of the Mediawan Group, a leading independent European studio producing audiovisual content.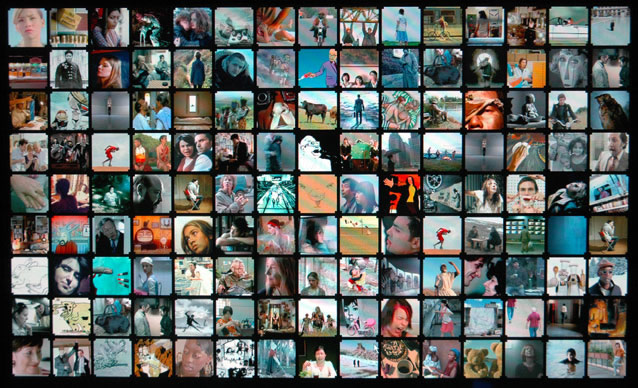 Based in Abidjan (Ivory Coast) and Ebène (Mauritius), the company is the foremost African distributor of audiovisual content. Initially specializing in distributing Hollywood majors' content in Africa and later South American telenovelas, Côte Ouest now offers the largest African catalog with nearly 20,000 hours of content across all genres, including soap operas, series, films, documentaries, animation, and more.

In addition to its distribution activities, Côte Ouest also houses Studio 1, an integrated dubbing studio that allows them to offer their programs outside their original region. For example, "L'histoire d'une vie (The story of love)» dubbed from French to English, has been distributed in 14 countries, "Jacob Cross," dubbed from English to French, has been distributed in 45 countries, and "Windeck," dubbed from Portuguese to French and English, has been distributed in 77 countries.

Lastly, Côte Ouest is also a content broadcaster, operating Nina Novelas, the first French-language channel dedicated to telenovelas, offering 1,400 hours of programming annually through linear broadcasting, catch-up (MyNina), SVOD, and social media platforms. Additionally, Côte Ouest owns Short, a premium short-format VOD platform available on Orange and MTN.


Our values
Above all, we place Ethics, Honesty, Sincerity, Reliability, Simplicity and Commitment at the forefront to serve our clients with all our forces. We know they rely on us for the success of the channels, just as producers trust us to make their most treasured possession thrive.
Our vision
Whether it is in art, literature, or music, Africa bounds with talents in every domain, and gave a lot of these talents to the world. Africa deserves a much better place in the concert of nations and we think it's time for these talents to serve the dreams and ambitions of Africa. It's Time For Africa!
Indeed, we believe the time has come for African people to tell their own stories. We believe the African creativity deserves a better place on the international scene. We are convinced the African production can travel through and beyond geographical borders. We love with passion the singularity of each of these Africas of which visible and invisible frontiers go far beyond those of the continent. We know to which extent theses Africas are beautiful, rich; and coloured and we have the major ambition to unite these flaming colours in one and only offer.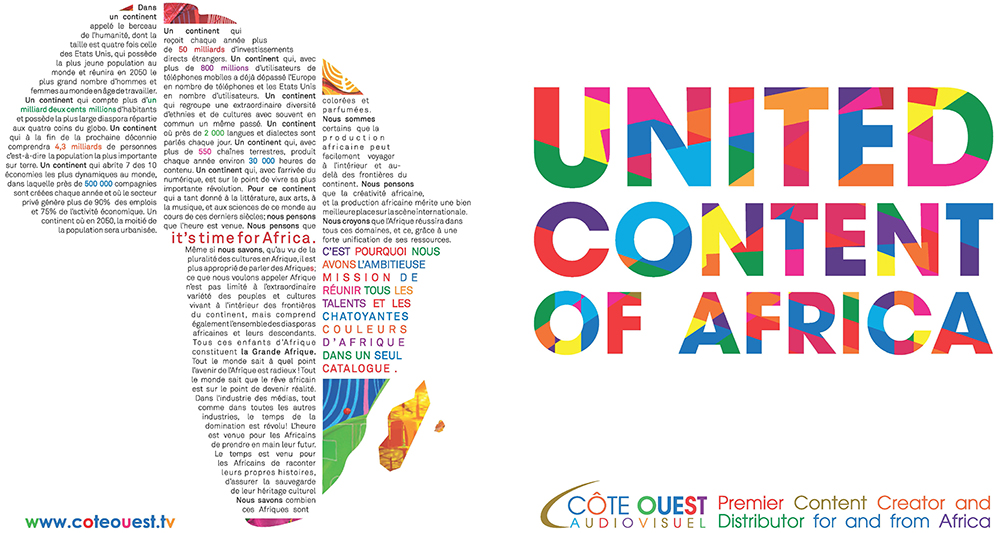 Our purpose
Africa is also a diaspora of more than 200 million people, spread over the four corners of the planet. This diaspora is hungry for African content. The African audiovisual industry's dynamism allowed and still allows the creation of quality works which can now claim their place in international TV programming.
Our ambition is therefore to carry Africa beyond its borders. Beyond this, though, we believe the future of humanity lies in its cultural mix and we are fervent supporters of a multicultural approach of entertainment. Likewise, we are convinced that a large potential remains hidden in the yet largely untapped South-South cooperation.
Our will is then to get off the beaten track and offer new paths – rather yet unexplored. So, thanks to its expertise on Latin America, Africa and now Australia and the Caribbean, COTE OUEST is now best positioned as a content provider for the South.