About us
CÔTE OUEST is an independent African company and a leader in the distribution of audiovisual content. Since 1997 it operates and relies on a network of 71 employees spread out over the whole continent. The company is headquartered in Abidjan (Côte d'Ivoire), and is also present in two other regions of the continent, through its offices in Ebène (Mauritius) and Johannesburg (South Africa).
Through the creation of CÔTE OUEST, Bernard Azria, one of the best marketing and communication specialist in French-speaking Africa, paved the way for a new business sector – not yet existent in the region at the time. He then becomes the pioneer of this sector on the continent.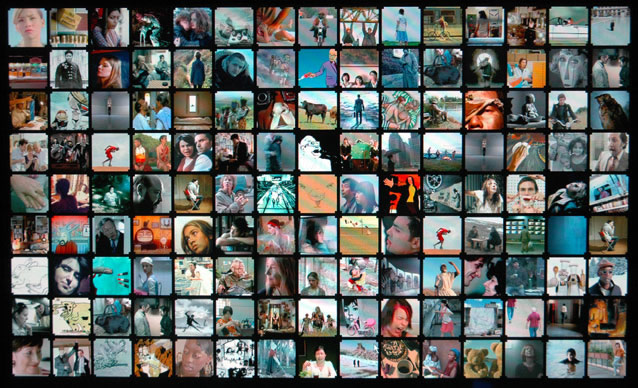 To this day, CÔTE OUEST distributes approximately 20 000 hours of programs annually to more than 150 clients, publishers of on - and offline services. Thanks to the current distribution platforms, most of these clients and publishers have access to an average of 70 main markets, and some, to the world's markets. If historically, the activity of CÔTE OUEST started with the distribution of contents from a number of Hollywood Majors such as SPTI, MGM, TWDC and CBS, over Sub-Saharan French speaking Africa, CÔTE OUEST quickly expanded its activity over the rest of French-speaking Africa, France and the French overseas departments and territories.
Betting on a warm welcome of the South American telenovelas, COTE OUEST was there again the pioneer in introducing these shows to theses territories, thus creating a real TV phenomenon, if not a social phenomenon, that still lasts to these days. This lead the company to sign an exclusive distribution deal in French- and English-speaking Africa and French overseas departments and territories with the giant Globo TV International as early as 1999. This agreement has by the way been renewed to give COTE OUEST Globo's distribution rights until 2033.
In parallel, COTE OUEST has progressively extended its activity to the English-speaking market. On this market the company is setting itself more and more as a main player. Concomitantly, COTE OUEST has progressively extended its activity to the english- speaking market. The company is further establishing itself as the main player of this other market.
At the dawn of the Noughties, COTE OUEST took note of the increasing demand of the televiewers for African content, and, as pioneer once again, patiently; and systematically built the most important African catalogue on the market. This catalogue, the first of its kind, holds programs from every part of the continent.
Some titles are distributed in their original versions, be it french, english or angolan.
COTE OUEST also provides the dubbing of the best ones to be able to distribute them out of the original regions, thus creating the first step in what COTE OUEST calls « Cross Fertilization ». This allows neighbouring populations to watch neighbouring programs. Here again, COTE OUEST was a trailblazer with « L'histoire d'une vie », dubbed from French to English and distributed in 14 English-speaking countries, with « Jacob Cross », dubbed from English to French and distributed in 45 French-speaking countries, and with « Windeck », dubbed from portuguese to french and english to be distributed in 77 countries, including 40 french-speaking and 37 english-speaking countries. Rich of almost 20 000 hours, COTE OUEST catalogue includes every genre: series, movies, documentaries, animations etc., mainly from Africa (or rather from the Africas), from South America, and some Hollywood blockbusters too.
Our vision
Whether it is in art, literature, or music, Africa bounds with talents in every domain, and gave a lot of these talents to the world. Africa deserves a much better place in the concert of nations and we think it's time for these talents to serve the dreams and ambitions of Africa. It's Time For Africa!
Indeed, we believe the time has come for African people to tell their own stories. We believe the African creativity deserves a better place on the international scene. We are convinced the African production can travel through and beyond geographical borders. We love with passion the singularity of each of these Africas of which visible and invisible frontiers go far beyond those of the continent. We know to which extent theses Africas are beautiful, rich; and coloured and we have the major ambition to unite these flaming colours in one and only offer.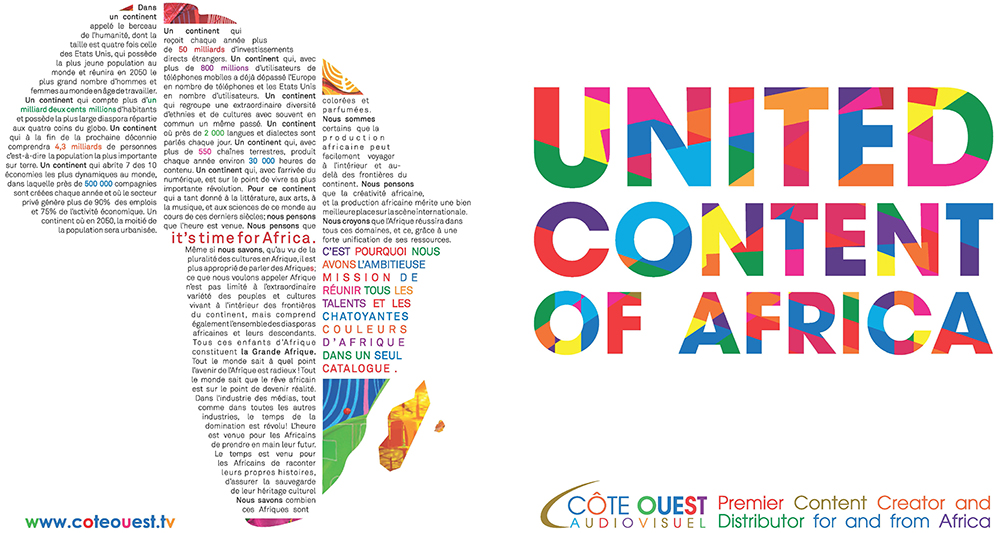 Our purpose
Africa is also a diaspora of more than 200 million people, spread over the four corners of the planet. This diaspora is hungry for African content. The African audiovisual industry's dynamism allowed and still allows the creation of quality works which can now claim their place in international TV programming.
Our ambition is therefore to carry Africa beyond its borders. Beyond this, though, we believe the future of humanity lies in its cultural mix and we are fervent supporters of a multicultural approach of entertainment. Likewise, we are convinced that a large potential remains hidden in the yet largely untapped South-South cooperation.
Our will is then to get off the beaten track and offer new paths – rather yet unexplored. So, thanks to its expertise on Latin America, Africa and now Australia and the Caribbean, COTE OUEST is now best positioned as a content provider for the South.